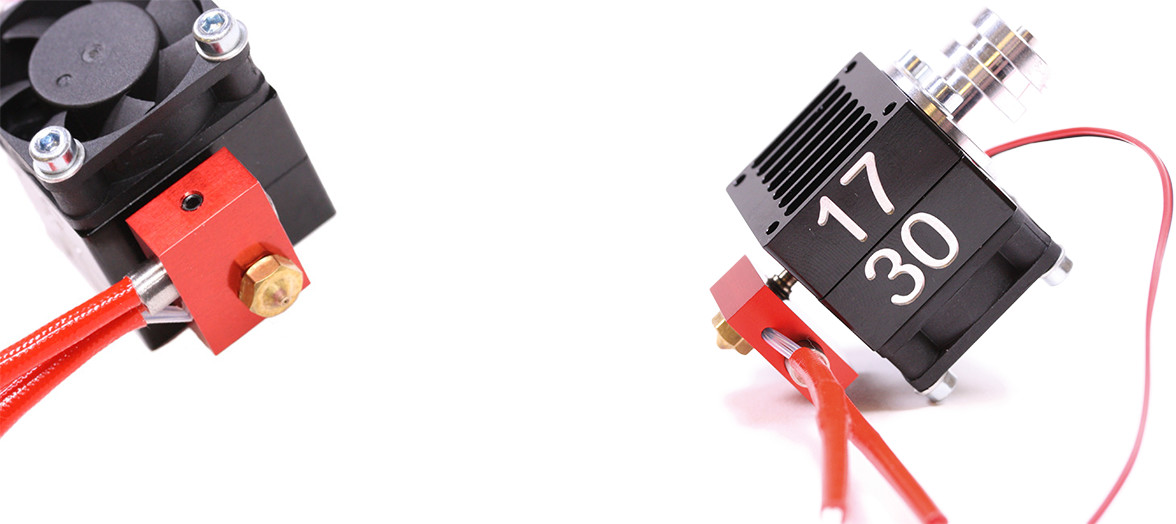 The 1730 Full Metal Hotend (patent pending) offers many great features that makes it a truly unique Hotend. For the very first time it is possible to print 1.75 mm or 3 mm filament with the same single Hotend. 1730's innovative modular design is leakage proofed and optimized for printing standard filaments, special filaments and high-temperature filaments.
The 1730 Full Metal Hotend came into existence by a unique cooperation between renown filament developer Kai Parthy and the team behind 3D-Printer Manufacturer ReprapUniverse.
1730 is specially designed to provide answers to the limitations of current fused filament fabrication (FFF) Hotend technology. We are convinced that the 1730 Hotend will simply, improve and open new applications in 3D-Printing.
Key Features
---
Print 1.75 & 3 mm Filament
The 1730 Full Metal Hotend enables switching Nozzles between 1.75 mm and 3 mm in just a few minutes*. For your average 3D-Printer setup this would mean buying 2 separate Hotends. Not even mentioning the pain of switching a complete Hotend every time you want to print a different filament diameter. To have a somehow workable situation, you simply end up purchasing another 3D-Printer. With the 1730 Full Metal Hotend that is a thing of the past: you can do it all now on a single machine - No more headaches & diameter limitations! Simply change the filament nozzle and you are ready to go. Experience total 3D-Printing freedom and enjoy the best of both diameter worlds.


*Switching from 1.75 mm to 3 mm (or vice versa) might require serious (extruder) adjustments on the side of your 3D-Printer.
Modular Full Metal Hotend

We have designed the 1730 Full Metal Hotend to be a truly universal Full Metal Hotend and a real game changer for a large amount of FFF 3D-printer setups. The 1730 Full Metal Hotend not only has multiple mounting possibilities, its innovative modular setup makes it a direct driven and bowden Hotend all in one. Nozzles are easily and quickly changed. A high-preformance Hotend designed to be universal.
High Performance 3D-Printing
The 1730 Full Metal Hotend is optimized for printing PLA, ABS, PU, PC and many of the new exotic filaments. Extensive research and testing have resulted in a unique thermal handling giving unparalleled printing experience. The 1730 Full Metal Hotend can reach 300°C with the supplied thermistor which let you print even high-temperature plastics like Nylon or Polycarbonate. A high temperature upgrade will be available in the future to reach even higher temperatures.
Further Features
---
No fuzz - Unbox it, mount it and start printing!
The 1730 Full Metal Hotend comes assembled. You just need to fix the heater cartridge and thermistor with a single set screw, connect the electronics and you can start the real fun: printing. We have minimized the 1730 Full Metal Hotend to as few parts as possible. There is not PEEK, no Kapton tape or adhesives involved. The 1730 Full Metal Hotend is extremely energy efficient and heats up from 20°C to 200°C in just 49 seconds. A pure Full Metal Hotend that saves you a lot of time and yeah... headaches.





A high quality manufactured Hotend with a distinctive appearance
The 1730 Full Metal Hotend has been designed from scratch and consists of only premium quality parts. The Heatsink and Heater Block are manufactured of a high quality branch of aluminium and has an exclusive anodized finishing. We keep a strong focus on high quality manufacturing to ensure you get the best Hotend experience possible.





1730s Filament Nozzle Unit - Waving leakages goodbye!
The 1730 Full Metal Hotend Nozzle Unit (FNU) forms the heart of the 1730 Full Metal Hotend and makes your 3D-Printing life so much easier. The Filament Nozzle Units are made of high quality stainless steel with a brass nozzle tip. It is a single piece design which finally made a big annoyance a thing of the past: leakages. The FNU has an optimal thermal handling, reduces friction and has a all-integrated heat break. The default 0.40 mm Filament Nozzle Unit that comes with the 1730 Full Metal Hotend gives you a good balance between printing resolution and speed. We are offering more nozzle diameters and also plan to launch stainless steel Filament Nozzle Units for printing abrasive materials without wear.





Setting new quality marks in FFF 3D-Printing
The entire design of the 1730 Full Metal Hotend is based on maximizing performance and optimizing thermal handling. By using the innovative Filament Nozzle Units we have greatly improved the filament flow rate and reduced feeding friction. This innovative thermal handling lets you print the widest variety of filaments currently available on the market in the best possible quality. Where other Hotends fail (so-called "PLA" problem), the 1730 Full Metal Hotend takes you to the next level.





Modular - Multiple mounting systems
Different 3D-Printer setups require different mounting solutions. 1730s modular design has the possibility to mount it to almost anything. The 1730 FMH can be mounted directly using the two holes of the heatsink, or by using the aluminium groove mount plate / round mount. You are also free to design your own mount which fits your specific setup.